"I'm only addressing those people who can understand me, as far as they are concerned, my work poses no threat whatsoever." -The Marquis de Sade
Pierre Cardin Fashion Extravaganza- The Château de Lacoste- Marquis de Sade

Pierre Cardin has always had a natural talent for striking a flashy tone: flashy creations, flashy artworks, flashy culture…  The question was, what creative 'bomb' could he drop this year? Artistically, what could follow the Whistling Sand Mountain (Mingsha Shan) and "Gallery" shows? Fashion and mystery have an ability to bring out the best in each other but how would Pierre Cardin China Chief Representative, Fang Fang, thrill the crowds this time around?
Sadeian Charm
The Marquis de Sade was an extremely controversial figure, primarily because of his temperament, his behaviour and his philosophy. But Pierre Cardin wanted to set himself a creative challenge: to portray Sadeian Thought through fashion.
The first collection presented by Pierre Cardin is dominated by red, black, white and grey with vivid blood red being the only exception to an otherwise cool, grey tone.  The striking contrast between the sanguine red and the monochrome tone is indeed a reflection of Sadeian Thought. The bold ambition of what Cardin is attempting to pull off is evident. Meanwhile, in terms of clothing design, the collection uses a whole kilometre of rubber strapping, transformed into flamboyant "needles", which bounces all over the garments like Chinese brushstrokes at will, making an incredibly powerful visual impact. Some even look like they are actually piercing through the chest and shoulders of the models, whilst brilliantly coloured mini-skirts help the models breathe sexuality. The sexuality and unrestrained nature of this collection reveals an intrinsic artistic value. And all this thanks to the creative language of Pierre Cardin Chief Designer, Sergio Altieri. The collection is a reproduction of Sade's almost insane emotions, pitched perfectly with exquisite colour coordination and abundant exaggeration.
From the perspective of Eastern thought, Sadeian ideas have unfortunate but insurmountable barriers to cross. However, looking at them more objectively, more positively, they can be really quite thought-provoking and enlightening. To give an example, he advocated the true liberation of man, something to which many can relate. Even China's 30 years of reform and opening up have in a sense been 30 years of human liberation…
Sadeian Form
The dialogue between Pierre Cardin and Sade represents a collision between the language of fashion and philosophical thought. Some say that Sade was a magician who created a 'world of absolutes', a world of unimaginable seduction. This is quite incongruous with the branded culture of Pierre Cardin, especially in terms of the stance that labels take in relation to culture, creativity and design.
The second collection by Pierre Cardin is marked by Cardin's use of a broad, simple couture that emphasises a feeling of solidity, which carries an historical air in relation to prevailing trends of 2009. The combination of classic visual elements such as the geometric shapes so characteristic of Pierre Cardin design along with fresh visual elements such as retro/modern cloaks has been the talking point of this collection. Also worthy of mention is the addition of rubber strapping decorations, which add an unusual texture to the overall form.
It has not been hard to pick up on the cohesive design of menswear that Pierre Cardin is promoting this year – a combination of shirt collars and V-neck sweaters symbolizing fashion's jumbled-up post-modernist principles and men's preference for convenience and utility. Meanwhile, the use of the warm, pure, Provencal colour scheme in this collection brings out the strengths of Sadeian Thought that Pierre Cardin believes worthy of our reflection.
Sadeian Sensuality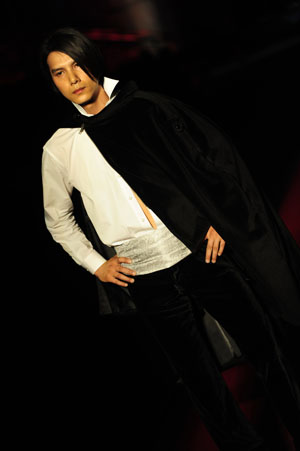 The eveningwear collection that makes up the final part of "The Château de Lacoste- Marquis de Sade" is there to satisfy French high-society's unique desire for nobility and sexuality.
Pierre Cardin's third collection is made up of 50 outfits of classy eveningwear, in black and red. The men's suits carry the graceful air of a modern 'marquis'. A heroic Sadeian quality combined with refined tailoring makes this season's menswear collection even more eye-catching.  The sexuality of the women's eveningwear is immediately apparent. See-through oriental silk and a seductive European palatial cut make this season's women's wear more radiant and alluring than ever before. From start to finish, the Pierre Cardin eveningwear collections emanate an appreciation for the beauty of the mysteries of the Orient. Slender lines and graceful life-like resemblance further exemplify the collections. The fact that the design of an eveningwear collection with an Eastern sentimentality should adopt an inherently Western aristocratic sexuality merely reflects upon the demands of consumers in today's fashion industry.
Pierre Cardin not only possesses an international perspective and a profound cultural background, his strength most worthy of praise is his ability to successfully merge gems of world heritage with contemporary fashion. Especially when it comes to passing on such heritage through performances, Cardin demonstrates an incredible sensitivity towards classical world culture.
Thanks to "The Château de Lacoste- Marquis de Sade", the Chinese people have been given yet another opportunity to discover the eternal seduction of Pierre Cardin's timeless principles of fashion design.