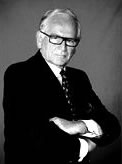 Pierre cardin (July 2nd 1922 -December 29th 2020) Pierre Cardin's story has the makings of a legend. He rose from humble beginnings to reach the top of the fashion world, not forgetting that along the way he is accredited with breaking open the exclusivity of the haute couture milieu and bringing fashion to the masses. For many people, Pierre Cardin's legendary status comes from his dual success as an haute couture designer and the magnate of a huge fashion empire straddling the globe. Over the last few years he can ascribe his successes to his social actions: he has been able to achieve a considerable amount of work where official diplomatic efforts have failed. In this way he has contributed to the promotion of mutual understanding and harmony among peoples. He is considered a long standing friend by the Chinese people. For 30 years, his characteristic passion and strength have helped to build a bridge between the two great continents of Europe and Asia. Let us now look back together over the legendary life of Pierre Cardin.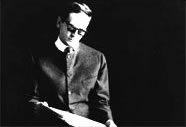 Mr Cardin was born on July 2nd 1922 in Venice, Italy.  Could the romanticism of southern Europe or his birth in the city of water have fostered his artistic talents? At the age of two, he moves with his family to Vichy in France.  On leaving school he goes to work in a company as an accountant and this financial grounding will stand him in good stead in his business dealings throughout his career. His family is forced to move out of Paris when Second World War bombings reach his family's courtyard.  At the age of 22, nurturing great ambitions for his future but with little capital, he moves to Paris - the heart of Europe.  If you have talent Paris can be your launch pad: a great capital with a rich history of heroes, politicians, officers, business men and artists. Paris can also be harsh city though, its doors can open to let in the successful but many others are kept outside. It is not difficult therefore, to imagine how difficult it would be for a young entrepreneur to go about setting up his own business.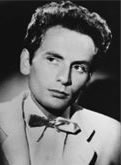 Pierre Cardin's first job involves making the costumes and masks for the film "Beauty and the Beast". The glittering fashion world in the haute couture capital rapidly seduces him and his ambition to make a name for himself in this milieu is born.  Soon he gets work as an apprentice in the newly created Christian Dior fashion house. He starts as a tailor and gains experience working his way around each department before mastering the necessary design skills.In 1950 he finally sets up his own eponymous fashion house. He presents his first collection in 1953, date which marks the official start of his career as a designer.  Twenty years of hard work follow and Pierre Cardin fulfils his entrepreneurial dream: he becomes a world famous designer.  His success is marked by the French Haute Couture world when he is awarded three times the "Dé d'Or".  One nomination for the award is the haute couturier's dream, but to receive it three times is unheard of and remains to this day unsurpassed. In 1992, Pierre Cardin confirms his position at the top of the haute couture world by taking his place among the elite of the Académie Française.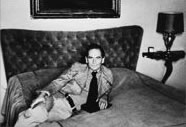 Nowadays the Pierre Cardin label is well known; but what is also remarkable is the designer's success as a business man.  In the French fashion world, and to a certain extent, the western fashion world, there are three categories.  At the top of this golden triangle is the Haute Couture world.  Each year in Paris, Milan, New York the collections from the best couturiers are presented to the world, each more luxurious and extravagant than the next. The shows and their designers are the darlings of the media, who come from all other the world to cover the events. However these clothes carry exorbitant price tags and are certainly not within the reach of ordinary people who mostly wear off the peg clothes.  Mass production may have eased the price but the design value also suffers. Pierre Cardin sets a new precedent by bringing haute couture off its sacred pedal stool, becoming the fist fashion designer to "mass produce" haute couture. The repercussions are huge: firstly it made haute couture more accessible, moving it out of the exclusive domain of the upper classes. It brought the latest techniques of the fashion world within reach of the middle classes or even ordinary people. Secondly it launched the prêt-à-porter industry opening up a vast market. With hindsight this move seems quite logical, but at the time it was considered sacrilegious and was very badly received by the haute couture world. It even led to Pierre Cardin being expelled by the Chambre Syndicale, the monitoring body of haute couture in Paris.  However, several decades later most of the major design brands have followed suit and now produce a prêt-à-porter line, proving that his decision at the time was a sound one.
The head start that Pierre Cardin gained with this courageous step had, in the meantime, allowed his brand to secure huge market share all over the world.  According to statistics "Pierre Cardin" is one of the highest selling brands in the world.  Being the first on a market gives a company a commercial edge and this is precisely what Pierre Cardin proved again by this pioneering move, not to mention securing handsome profits for his company.  Today, the Pierre Cardin fashion empire comprises 400 brand franchise contracts throughout the world, manufacturing and sales centres in more than 130 countries and a staff numbering 200,000. What must be noted is that these accomplishments result from Pierre Cardin's personal decisions, carried out under his supervision. He is the owner of this vast commercial machine. The portfolio of companies and brands that make up the group are firmly under the control of Pierre Cardin, which coupled with his design talents, make him an unusual figure in today's business world.
Success in his profession and in the business world have never been enough for Pierre Cardin, and he has always striven to promote cultural relations through numerous social actions, to enhance cross cultural exchange and to help people work and live together without strife. With this in mind, in 1957, he undertook a trip to Japan, a country at that time just emerging from the war.  This would be the first of over 30 visits to Japan where he is held in respectful admiration. From the 80s onwards, Mr Cardin travelled to the ex USSR and even organised a fashion show on Red Square in Moscow.  He has also travelled to Vietnam, Cuba and Libya, countries still closed to the world, to carry out diplomatic missions that could not be carried out by those in official positions.  This lead to Pierre Cardin being named as an Honorary Ambassador to UNESCO in February 1992, responsible for the Chernobyl nuclear accident in the ex USSR and for the promotion of tolerance.  The notion of tolerance can be defined as people from different backgrounds not discriminating based on race, wealth, education, gender, culture or religion, but living together in mutual respect, equality with a common agenda. Pierre Cardin designed the 6 coloured tolerance flag which was hoisted in regions such as the Middle East, to inspire tolerance in peoples' hearts. For warring nations any sign of peace is extremely precious.
Pierre Cardin has also been a patron of the arts.  In 1970 he opened the Cardin Cultural Centre just a short walk from the Élysée Palace, to create a platform to help launch young promising artists.  To date such artists as the great Russian ballerina Maya Plisetskaya, the Canadian singer Céline  Dion, the Vietnamese painter Daniel Jègoû or even the Chinese painter Deng Lin have all benefited from Pierre Cardin's support. This winter, a season of Chinese culture will be presented through paintings. Pierre Cardin has also held the position of Secretary General of Mediterranean States Committee; has raised funds through auction to restore the Great Wall in China and to preserve Venice from rising waters; he has just recently created an international federation to oversee the restoration of the Alexandria lighthouse in Egypt. In short, although Pierre Cardin expends a huge amount of energy in his philanthropic work he finds it enormously rewarding.