The beginnings of Pierre Cardin's relationship with China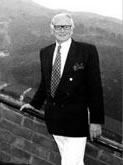 1978 First visit to China, first climb to the Great Wall.
1979 First Pierre Cardin Restricted Fashion Show in China-Beijing National Culture Palace, only professionals permitted.
1981 First Pierre Cardin Fashion Show in Beijing Hotel. Opened to public.
1983 First Pierre Cardin international Products Fair in Beijing National Culture Place.
All products are local made. More than 200 Pierre Cardin worldwide licensees have attended the Fair.
Same year, Beijing Maxim's restaurant opened.
1985 Biggest Fashion Shows in China, and the biggest Pierre Cardin Fashion Show in the world, in Beijing Workers' Stadium with a seating capacity of more than 10 000.Same fashion show in shanghai Culture Theater.
Same year, Pierre Cardin invites 12 Chinese top models to Paris, modeling his recent collection, 8 most influential French and European newspapers have put this element into their front page.
1986 Cooperating with Ford Modeling Agency, Pierre Cardin presents for the first time, Chinese models to participate the international Top- Models Competition in L.A.
1987 Pierre Cardin arranges the first China visit for Alain Delon.
1988 Pierre Cardin organizes 'SAVINGGREAT WALL, SAVING VENICE' Charity Bazaar in Beijing, all contribution goes for rescuing Great Wall and Venice. More than 200 world celebrities have come the China to participate and to attend the first Masked Ball in China Diaoyutai State Guesthouse.
Same year, Pierre Cardin signs a contract with the Italian group GFT, the later becomes Pierre Cardin's biggest licensee in China, licensing men's Ready-to-Wear.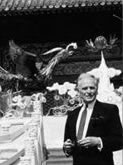 1990 Invited by Asian Games Organizing Committee, Pierre Cardin comes to Beijing for the 11 th Asian Games. 5 large-scale fashion shows have been held in Beijing and in Tianjin.
1993 Attends the First China International Clothing & Accessories Fair (CHIC), fashion show int the Temple of Heaven.
1994 Organizes Deng Lin's Personal Paintings Exhibition in Espace Cardin in Paris.
1995 Meets with the president Jiang Zemin in Zhongnanhai, Beijing.
1998 Opening of Shanghai Maxim's in Shanghai Grand Theater
1999 Pierre Cardin brings his Maxim's collection to Ningbo and Shanghai, and signs a contract with the Chinese group Youngor for Maxim's Men's Ready-to-Wear.
Same year, a Chinese Five Dynasties and Pierre Cardin fashion show held in Macao for Macao's Handover.
2000 Chinese Five Dynasties and Pierre Cardin fashion show held in Sydney for Olympic Games 2000.
Same year, Pierre Cardin signs Women's Ready-to-Wear license agreement with Shandong Uniform Co., Ltd. In the People's Conference Hall, Beijing.
2001 A Combination of Chinese Kung Fu and a classic European love story--- the large musical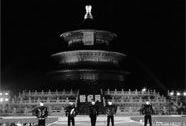 2002 The large musical is touring in China at Beijing, shanghai, Shenzhen, Guangzhou, xian.

2004 The night of France was held in the Great Hall of the people in Beijing During the sino French cultural year---The Pierre Cardin fashion China ceremony, giving awards to the most influential Chinese artists and France artists.

2006 Pierre Cardin's Fashion show at Guanyuemiao in Beijing.
At the same year, The Classical French golden dance as the most important show for Sino French cultural.
In May, First performance at the Beijing Century Theatre.and touring at France in July.
In November, Pierre Cardin's fashion show at The Place in Beijing.

2007 Pierre Cardin's Fashion show at The Great Wall in Shanxi
In November, Pierre Cardin's Fashion show at Dunhuang.

2008 Pierre Cardin's Fashion show was held at Shanghai Grand Theater.

2009 Pierre Cardin's Fashion was held at 798 Art Plaza in Beijing.
In October, Pierre Cardin's Spring and Summer fashion show at the Red Scarf Park in Beijing.

2010 Ballet show "Marco Polo" was held in Shanghai.

2011 Pierre Cardin's Fashion show on the carrier in Tianjin.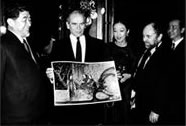 2012 Pierre Cardin's Fashion show at Beijing Water Cube.

2014 Three-act fashion ballet show < Légende de la Mode> held at the Beijing National Grand Theater.

2015 Pierre Cardin's spring and summer Fashion show at Beijing Railway Museum.

2016 Pierre Cardin's spring and summer Fashion show at the Yellow River in Lanzhou.

2017 Celebrating Mr. Pierre Cardin's 70 anniversary of business –A large Ballet fashion show at Beijing 751D Park.

In 2018, a grand show with the theme of road de Cardin will be held in the great wall of Beijing.

The spring and summer 2020 fashion conference with the theme of Infinite evolution was held in Anaya, Qinhuangdao in 2019.

Pierre Cardin released the public welfare micro film "gorgeous", which is adapted from the real events under the epidemic situation in 2020